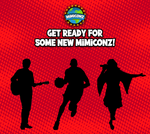 NEW Mimiconz?
Mimiconz are preparing to announce the next set of famous celebrities that will be turned into figurines soon. Keep an eye on this page and our socials to be the first to see!
We're always looking to launch new figurines for the range. We want to know who YOU would like to see next as a Mimiconz figure.
Whether it's a Musician, Actor, Actress, Internet Personality or Famous Athlete, we want to hear from you.
Head over to our 'Submit your ideas' page and let us know who you would like to see next!